Torre Glòries Data Exhibit
Role: Creative Direction, Design
Designed by renowned French architect Jean Nouvel, the Torre Glòries is the third tallest man-made structure in Barcelona. A favored destination for locals and tourists alike, the expansive view from the tower helps visitors understand the urban design, topography, and inhabitants of the city. In 2022, Rare Volume launched a permanent experience within the tower's Hyperview Barcelona exhibit that surfaces the natural and man-made phenomena that impact the lives of Barcelonians each day.
The exhibit is a unique space to teach visitors a new way of seeing—to look beyond the surface of a city, and to observe the unseen forces that drive Barcelona's various ecosystems. Housed on the base floor, 4 unique visualizations—Wind, Sky Above Us, Our Sea, and Soundscapes—bring to life data we cannot see with the naked eye.
A work of generative art, as well as a meteorological instrument. Powered by Barcelona wind data, a beautiful banner ebbs and flows across the panoramic canvas, representing a range of data sets such as wind speed, direction, air quality, and aerobiology such as pollen and spore levels.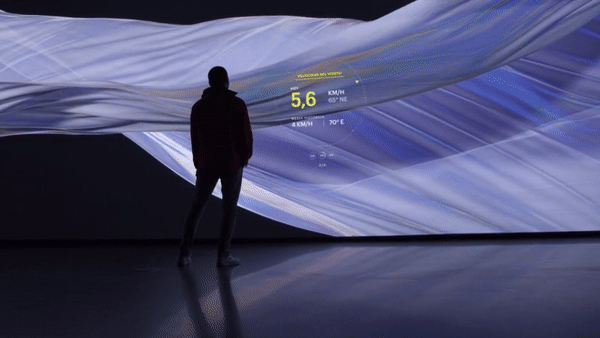 A realtime view of the heavens directly above Barcelona. A sea of stars fill the panoramic canvas, their positions inextricably tied to the rotation of the Earth. Mapped against this backdrop are the positions of the planets, constellations, and satellites.

As visitors pass through the space, their motion reveals the dimensions of the scene: names of major stars, internal logic of constellations, origin and purpose of satellites, and details about the visible planets.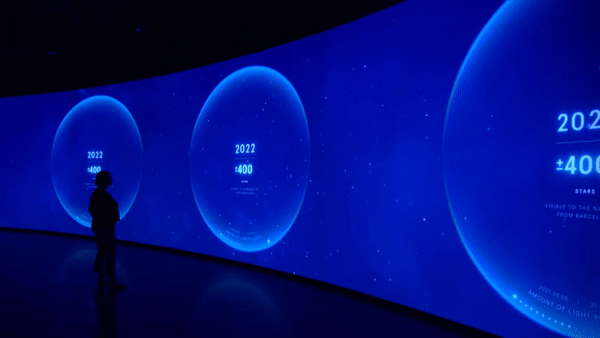 A spectrographic visualization of the sounds of Barcelona's rivers, oceans, mountains, and city. Each soundscape is composed of three sonic sources:

Biophony: Sounds produced by living organisms, such as animals and birds.
Geophony: Non-biological sounds that occur in any habitat, such as wind and water.
Anthropophony: Sounds generated by humans, such as automobiles and conversations.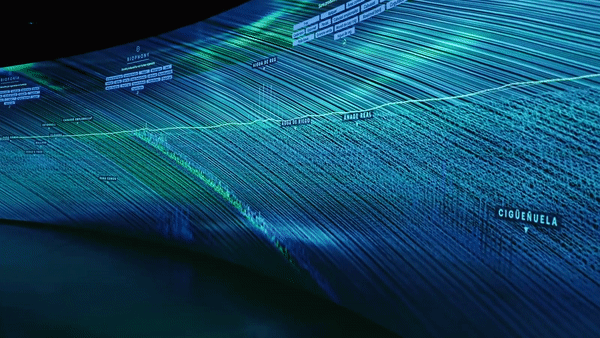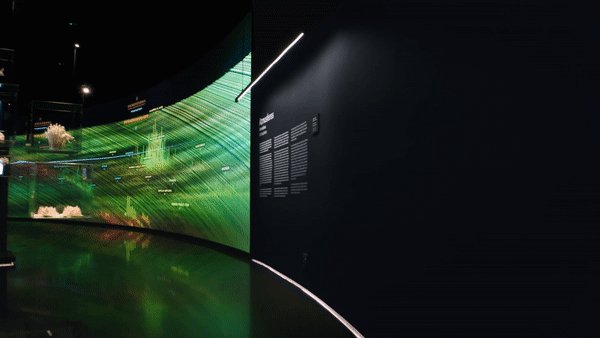 Exploring the link between the city of Barcelona and the Mediterranean Sea. By pairing symbiotic datasets of the land and sea, we observe the unseen conversations between these two worlds.

Air Temperature & Sea Temperature
CO2 Emissions & Sea Acidity
Air Traffic & Sea Vessels
Wave Agitation