Industry City Digital Signage
Role: Creative Direction, Design
Rare Volume designed a modern digital signage system for Industry City. This redevelopment in Brooklyn, NY has transformed the historic waterfront region into a creative campus for the city's burgeoning innovation economy of engineering, design, manufacturing, production, and food and beverage.
With 16 buildings built on 35 acres, the IC campus includes waterfront green spaces, immersive retail, public art, eateries, and creative work studios. Working closely with the Industry City team, we designed and implemented a wayfinding system that automatically deploys marketing, sales, and directional content to screens throughout the campus.
Designed to require minimal staff maintenance, the software system ingests text and media directly from IC's website CMS, and reorganizes it into a dynamic suite of marketing, sales, and wayfinding content templates for the signage screens. IC has the ability to add and customize content per signage location and review all content that's currently being displayed via a custom signage CMS.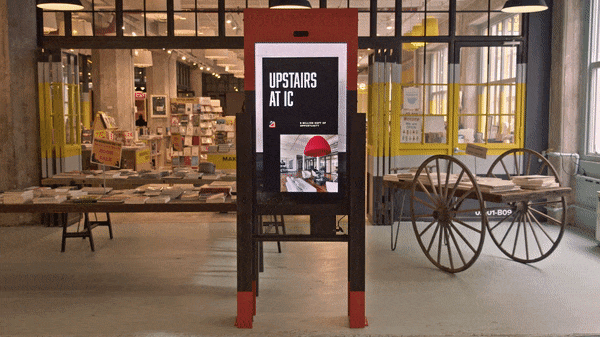 Our signage software renders dynamically animated templates into a cohesive package based on the signage CMS content and scheduling rules. Within these rules all content is randomized so that tenants are represented equally and content remains fresh every day.